Photograph: With my pricey good friend and agent, Jenni Burke, on my book launch day final year (2018).
I considered turning into an writer off and on for years throughout my childhood and early maturity. I pictured myself like Madeleine L'Engle on Crosswicks farm, writing in my golden years. (I do know she additionally wrote while elevating youngsters—in addition to earlier than—but I all the time imagined myself like her in the later stage of her writing career.) I'd have a second story window overlooking a large grassy area and naturally an oak tree. Obviously there can be a effervescent brook in the distance providing a baseline for the birds' morning music. And butterflies. And sunshine. And doubtless some laughter echoing by way of the crisp spring air.
On a whim I started writing a blog after our first son was born. I had never read a weblog earlier than I began one. "Mine would be different," I advised myself. I would like to write to assist different individuals, not just publish self indulgent dribble online. (My sort-of-but-not-entirely-accurate assumption of what a blog was within the early days of running a blog.)
Wanting again at my earliest posts I can see this want coming by means of the words—each submit rigorously crafted with the reader in mind—but I also can see a younger mother, greedy to find which means in her personal words. I wrote to encourage others, but I underestimated how a lot the writing was also helping me to find myself amidst all the emotional upheaval and profession modifications of early motherhood.
Not lengthy into writing online I began to write into "tougher" topics. I wrote about what it was like to have a physician tell us our child probably had Down syndrome. I wrote about being disillusioned that our baby was going to be a boy fairly than a woman. I wrote concerning the shame I felt once I misplaced my temper with my youngsters or how it felt to have significant friendships dissolve into the haze of motherhood or how witnessing village births in Papua New Guinea challenged my perspective on so many things.
After experiencing my first miscarriage, I wrote about that too. Within hours of being residence from the hospital I spilled my guts onto the web page and posted it for anyone to learn that may. (And I used to be determined that they might.) It was my means of finding an anchor in the storm, studying how to put language to the newfound agony that was unleashed. It's how I processed and prayed and asked for help. It's how I grieved.
It was round this time that I had grown extra critical with my writing. I used to be beginning to get my a whole lot of hours value of educating and preaching material onto paper—tales and antidotes that lived in bullet point notes or in my head. I began to marvel if I might write to publish ahead of my golden years. I needed to. But actuality all the time pulled me again: I used to be a mom to infants and my life was already extremely (exhaustingly) full. Writing was what held me together once I felt like different elements of my life have been making an attempt to unravel themselves. I wrote with ferocity and function both publicly and privately—not often missing a day, all the time one way or the other finding minutes to scratch out words, regardless of how scarce the nap time hours have been.
In 2014 I was invited on a writers' retreat in Italy. I had no concept that those ten days would type a precipice on which I might study to leap from. I entered with objective and intention, then was hit with a wave of intense insecurity and imposter syndrome once I realized the others on the trip have been "real" writers (which, in my mind on the time meant revealed authors—though I do know higher now).
One quiet afternoon I sat beneath a canopy of vines searching throughout fields of wheat fringed in sunlight, and more clearly than I understand how to articulate I sensed God talking to me that it was time to write Grace Like Scarlett—the title he had given me days after dropping our first child.
At the time I used to be pregnant after our first miscarriage and I hardly needed to write about probably the most painful expertise of my life, however I stated "yes, Lord" and resolved to get to work as soon as I used to be house and again into the traditional rhythm of writing.
That standard rhythm never came.
As an alternative, two days later I used to be bleeding in a monastery. My second miscarriage had begun. It continued in Saint Peter's Basilica while I acquired the blessing of Pope Francis, and in a hospital hallway in Rome, and whereas I stood beneath the Sistine Chapel shoulder-to-shoulder with strangers who had no concept I used to be carrying dying in my womb.
My second miscarriage left me indignant—a visceral response to the injustice of life aborted without being given the prospect to flourish. I couldn't comprehend the jarring beauty round me while I grappled with the ugliness inside my own physique.
As painful as that trip was, it cemented a course God had pointed me toward. My dream agent pursued me. I began writing a book proposal via one other pregnancy and a third miscarriage after which one other being pregnant, and completed it weeks earlier than our youngest was born full time period and one million kilos robust. While I nursed our newborn my agent shopped my book proposal to totally different publishing houses. The gives came shortly and I used to be lucky to have the selection of which writer to work with. I had a new child, a brand new two-book contract, and a newborn passion to write the message God had already been writing within me.
It wasn't the book I needed to write. I couldn't think about why anyone would want to write a book on grief and suffering, or attempt narrative theology round problems with theodicy or eschatology or any of the opposite delicate issues I explored while also digging to the depths of my sorrow to describe my own private loss by means of memoir-inspired sections. But although this wasn't the book I needed to write, it was the book I needed to write—one about grace and hope, promise and presence. It was the book I wanted someone had handed me within the days once we lost our first child to miscarriage—Scarlett. It's additionally the book I wanted I might have read after dropping Oliver. After which Ruby.
It was the book I had to write.
Grace Like Scarlett was conceived at the backside of my pain where I discovered God's goodness was nonetheless there. However it grew via my subsequent miscarriages and heartache and wrestle to make sense of my faith through which the one factor left standing was my core perception that God's goodness was reality, regardless of how I felt. Grace Like Scarlett came to term as I poured myself into the precise manuscript through the blurry days of sleepless nights and (seemingly) countless newborn feedings. After which a brief fourteen months after I started the manuscript, I labored to see the printed book take its first breath on the earth.
It was miraculous; it was new life and it was changing me.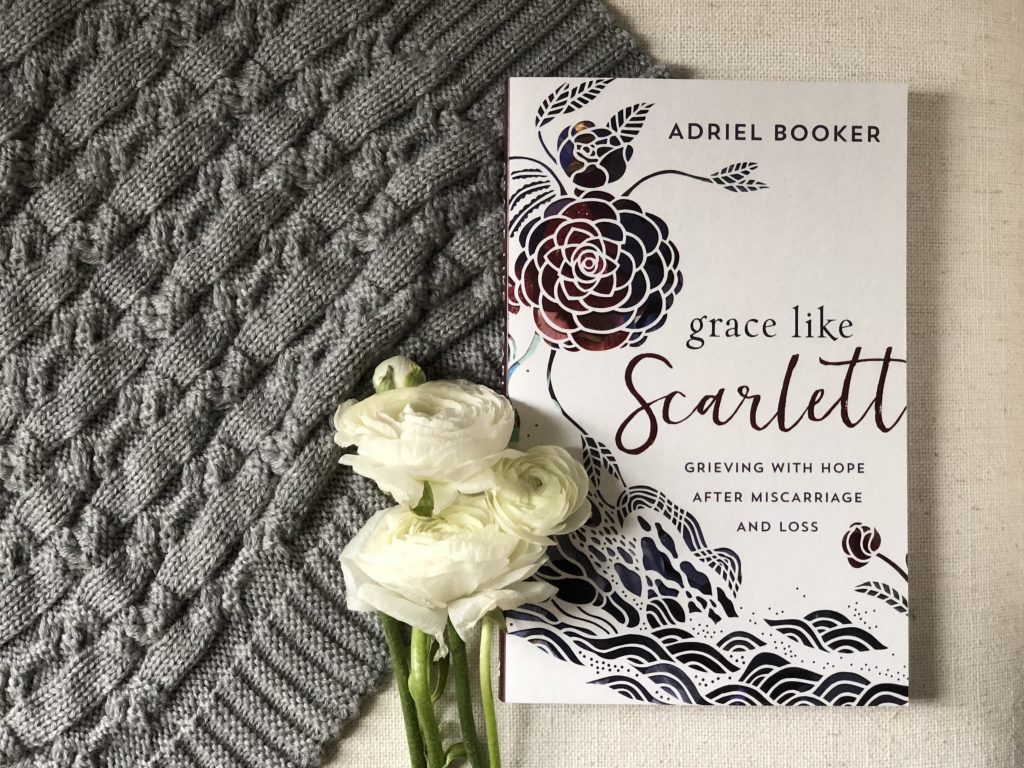 It's been a year since sharing Grace Like Scarlett with the world, and like all new youngster it's straightforward to divide my life into "before and after." There's a distinct line in the sand that's drawn when a piece comes to completion (or a toddler makes their look to the surface world). Even when that book has been inside you for a lifetime, nothing can really put together you for the truth that once it's in print it not belongs to you, but to those to whom now give it place on their nightstand.
By no means in my life have I come up towards such worry and vulnerability, insecurity and doubt as when my words got permanence in print. However never in my life have I been extra pleased with my arduous work—the tears and the sweat equity and the depths of anguish I explored in prayer in order that I might supply one thing rich and meaningful—and even lovely—in a world typically marked with ache. Never earlier than have I experienced such abundance in my lack, such power in my weak spot, such grace in my inadequacy, such faith within the face of doubt and worry and discomfort, such hope within the midst of hardship.
One year later and I hardly understand how to mark this birthday, this anniversary. I all the time imagined marking it with fanfare and celebration, the equivalent of my heartfelt extravagance as I hosted my youngsters's first birthday events. And but now that this anniversary is here I'm more weepy and nostalgic than anything. Extra grateful. Extra astounded. More rooted in the marvel of its existence. More amazed by God's kindness.
There's little in my life as miraculous as the best way God tenderly led me into writing and publishing Grace Like Scarlett. It gained't be my last book, and I hope I'll keep growing as a writer and have the opportunity to one day say it's not even my greatest book (though that feels strange now to muse). However it will all the time maintain a sacred place in my coronary heart as a result of it was born out of such sorrow and sacrifice.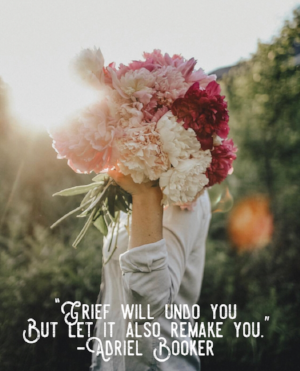 I learn it once more not way back and unexpectedly acquired the ministry of words, barely remembering that I used to be the one who first penned them. Writing Grace Like Scarlett was my invitation from Jesus to write down the goodness that he showed me regardless of my heartache. Writing it was additionally my invitation—his invitation—to you to search for his goodness, too.
I've discovered that your eyes will see what you're in search of, and even in the darkness, should you look for the goodness of God you will notice it—typically without even squinting. For those who turn into nonetheless, you'll hear the invitation that ache brings—not just the invitation to heal, but first the invitation to go deeper, to be shaped by Christ whilst he's shaped inside you. My hope is that each one who turn her pages will discover the highly effective simplicity of the ministry of presence, both as a recipient and a giver.
"I wanted to give up on God until I read your words."
"You helped me see I wasn't alone."
"I refer back to your book often on my own hardest days of grief, and it's also the book I recommend to my clients when they lose a baby themselves."
"I was burned by my friends who didn't see my loss as significant, but you've helped me to see that God cares and still loves me despite how I've felt about him."
I might inform you the variety of printings my book has had or the copies bought. I might brag about this or that suggestions I've acquired from a publishing skilled with the guise of celebrating a "win" with my "fans." Relying in your measuring stick these metrics and accolades might impress you or disappoint you. But the true measure of influence comes in how it's labored its means into hearts, most of which I'll by no means know. These snippets of statements from personal letters and emails imply more to me than an internet shopfront full of 5 star critiques. Hearing of a book passed between buddies means extra to me than the sum of every lady shopping for her own.
As I commemorate the milestone of Grace Like Scarlett's start into the world one year in the past, I achieve this with deepest thanks for the One Who Holds All Things Collectively. He held me collectively whereas writing and now holds others collectively as they crack pages and hearts extensive open in hopes he'll meet them of their pain, too.
Completely happy birthday, Grace Like Scarlett. I'm pleased with you, amazed by you, thankful for you, humbled by you, and blessed by you. I assumed my fingerprints have been on you, but it seems yours are on me, too. Thank you for persevering with to train me.
Do your factor on the planet, you tender but fierce book-girl, Grace Like Scarlett. Find the hearts who want you and point them to the one One that can really heal.
Now, let's go buy ourselves some flowers, we could?
Love,
A xo
---
Purchase a replica:
When you haven't but purchased your personal copy of Grace Like Scarlett (or a replica for a good friend) you can do so on Amazon, Koorong, Barnes & Noble, or any variety of different on-line retailers.
Help others:
When you'd like to assist others discover Grace Like Scarlett to assist them of their grief (or assist them better understand the grief of others) you can do two fairly easy things:
Request that your native library and church library (or pastoral care ministry) inventory Grace Like Scarlett.
Depart an trustworthy evaluation on Amazon (or on Goodreads) of how Grace Like Scarlett has helped you (or helped a good friend in the event you bought as a present).
Only for enjoyable:
And because it's enjoyable, a cheerful first-time-author photograph from the primary time I obtained to hold a real copy final year. (I cried not long after this because the unhappy reality sunk in that this book needed to be written within the first place and I used to be the one to write it. Such an emotional curler coaster!)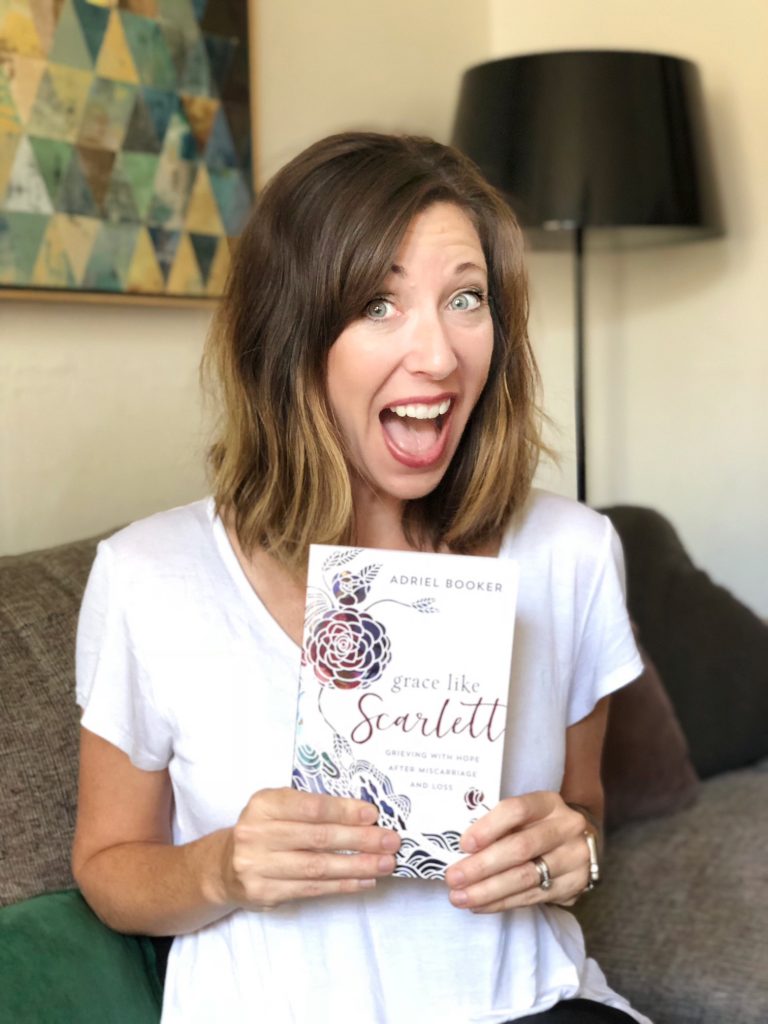 Pin It